Water Saving Tips – Save Water and Money
Posted by Norman Fong
California and many other regions are having droughts.  Water bills are sky high. Time to save water and money.
1) Replace older toilets with water saving dual flush toilets or stick a displacement bag in your old toilet. Fix or replace leaky toilets.
2) Install low flow water saving shower heads with aerators. Average 10 minute shower uses 40 gallons of water. A bath can use 30 to 50 gallons of water. Look for shower heads with aerators that use 2.5 gallons a minute or less rather than the usual 5 gallons per minute. They can cost $5 or less.
Fix leaky shower heads.  Shower less and use more deodorant. Keep showers under 5 minutes. You can save upto $65 a year on water and water heating with low flow heads.
3) Install water saving faucet aerators.
4) Collect and reuse water in the shower that comes out as it warms up.
5) Turn off the water while brushing your teeth or shaving.
6) Turn off the water while soaping up or shampooing in the shower
7) Fill a bowl and then wash fruits and veggies
8) Keep a jug of water in the fridge to keep cold water
9) Collect and reuse water from unfinished glasses, pasta cooking, etc. Use it in the toilet or to water plants.
10) Install a gray water system to reuse water.
11) Replace water inefficient appliances with efficient ones when they break.
12) Redo your garden with drought resistant plants and lots of mulching. Green lawns require a lot of care. Ditch the lawn or replace it with artificial turf. Lawns use 50-80% of  a household's water. During hot weather, lawns need 1/2″ of water ever other day. Flowers use less water than grass.  Pathways use no water. Mulch prevents soil erosion, helps keep moisture in the soil, and keeps weeds away.
13) Water your garden in early in morning (3AM) to lessen evaporation, but not at night or else lawn disease many occur.  Water more deeply, not more often. Water every other day.
14) Washer clothes in cold water.

While you are at it reduce water heater energy use and see if your local water district has water use Audits.
EBMUD Free Water Conservation Survey
Alameda County residents: East Bay Municipal Utility District has free water conservation surveys of homes with in their service area. Free showerheads and faucet aerators are offered if existing fixtures are not low-flow models. Such a deal!
Check with your local water utility to see if they have similar programs.
Water Generator – Pure Water from Air
dewpointe makes some interesting machines that makes water from atmospheric moisture in the Air. It uses purification to output some very clean water. At 70º and 60% humidity, the Dewpointe creates more than four gallons of pure water a day. Units start at $1595. Clean Water is becoming more rare and expensive all the time, so machines like this may become commonplace soon. It does not function well in low humidity regions.
11 stage filtration process
Average cost of $.60 (USD) a gallon
Up to 8.4 gallons of water per day
Fresh drinking water is only going to get harder to find. Consider that only 1% of the world's water is fresh and unfrozen. Most is underground in aquifers. Only 0.3% of world's water is fresh surface water.
Lower Your Water Bill Recycle water – Grey Water System on the cheap
Grey Water home systems or gray water systems divert waste water from laundry machines, showers, sinks, etc through filtering systems and recycle water onto a home's landscape irrigation system. Toilet water is not part of a graywater system. These systems are great way to save on water and reuse wastewater and reduce water consumption by 10 to 50%. Some systems require filters, others are more simple, utilizing gravity. Complex graywater systems can filter and disinfect graywater before it is used to flush toilets. They are expensive to have professionally installed, so some renegade sites have popped up with plans on how to roll your own cheaply.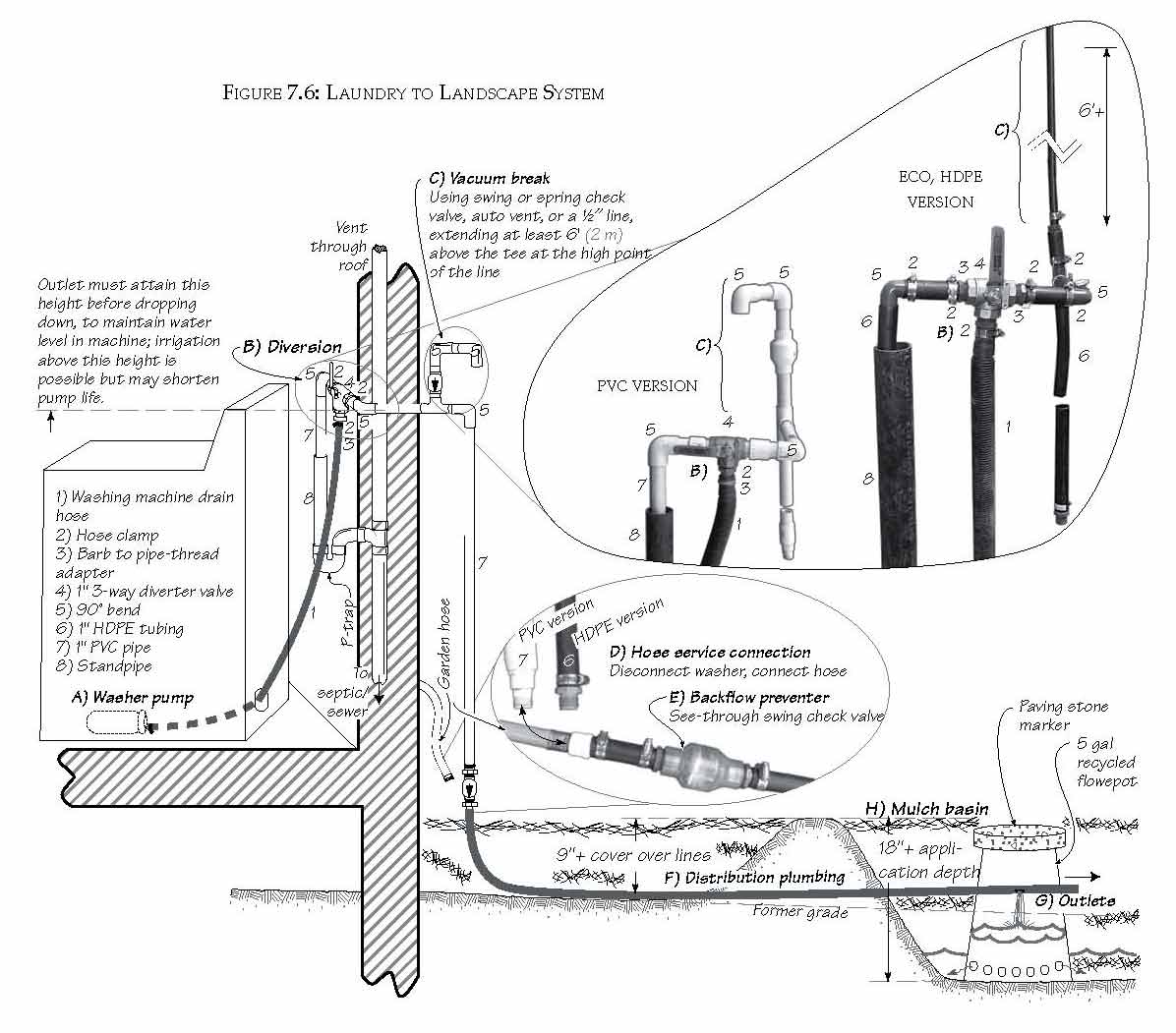 On August 4, 2009, California changed its grey water standards, following Arizona, Texas, and other states. The new code lets you install basic, inexpensive systems yourself, with no permits needed for most. No expensive filters or pumps are needed.
Grey water cannot stagnate or pool up
It cannot make contact with animals or humans
Cannot touch fruits or vegetables, nor can it run into other people's yard
The pipes need to be several inches underground or under mulch
Grey Water Resources:
This site has more information on Laundry to Mulch Basins systems.
Greywater Guerillas has some gray water suggestions.
Greywater action helps educate homeowners on ways to reuse gray water
Instructables.com has some detailed plans on how to construct them.
You can always catch rainwater with big garbage pails and save the water for less rainy days.
Waterless Urinals
I encountered a waterless urinal the other day. This would be a great way to save water.
As they put it: "A Waterless fixture saves up to 45,000 gallons of water and more per year per urinal and supports our intent for sustainability of our natural resources. "
They have several versions for the home. Urine flows through their $5.50 EcoTrap drain insert down to a drain. They have a liquid barrier to prevent sewer vapors from escaping. It does need to be changed every 1500 uses. They claim it costs $1 per 1000 uses vs $2-$6 for a conventional urinal.
Kohler sells one for under $400.
McDonald's in France has some of these waterless urinals installed. They said it would save 150,000 Liters of water a year.
photo credit: ~~~Weltenbummler~~~
Flushable Wipe Pipe Clogging Problems
Are wipes flushable? When are wipes not flushable, when they are flushable wipes.  Flushable wipes are clogging sewage systems, causing sewage overflows and clogging.  They are designed to break down but do not.  Kleenex has the same problem.
Kimberly-Clark, maker of Cottonelle and Scott flushable wipes, has done extensive testing to make sure the wipes won't clog a properly functioning sewer system, but like other manufacturers, Kimberly-Clark advises customers to flush only one or two wipes at a time.
Kimberly Clark's Dickson said it's possible that people are putting too much down in a single flush or that the wipes are getting caught up with other materials, such as baby wipes that aren't designed to break down. Still, he would not advise ignoring Raleigh's plea. People need to follow guidelines and perhaps other items are also causing problems in the sewer line. They go on to say that bagging wipes and tossing them out as trash is better.
So toss rather than flush those wipes.  It is better if you do not use them in the first place.  Perhaps wetting some layered toilet paper can achieve the same results.
Filed under: Conservation, Easy, Effort, Green, Home, Kitchen, Money, Water | Tags: aerators, ebmud, Gree Tree Care, Green Lawn Care, Lawns, shower, Shower heads, water bill, water conservation
Posted on October 7th, 2013
If you enjoyed this post, be sure to subscribe to our
RSS feed.